There's so much more to us than squeaky fake mice.
Bionic Cat is an Indianapolis-based IT provider focused on making technology work seamlessly for your company. Established in xxxx, we've grown our client base to include organizations in dozens of industries—but no matter what your business, we can probably help you, too.
Why are we called Bionic Cat? For one, it's a bit friendlier than our first choice: Cyborg Kitty. For two, we also happen to like cats—specifically those exhibiting dog-like qualities. If that's confusing, contact us and we'll explain.
Our team can help you plan, purchase, set up, maintain, and troubleshoot your business's Apple Macintosh environment.
While waiting for the dawn of the personal computer revolution, Stephen bided his time wiring stereos, learning to make the most of his latest Casio watch and figuring out basically anything that ran on batteries or plugged in.
Enter the Apple IIc in 1984—Stephen found his true calling.
Lest you think he quickly came to the idea of making computers his career, he first lived in Germany after high school (first taste of Apfelwein!) before studying liberal arts at Colby College and earning his bachelor's degree in radio, television and film from Northwestern. After he discovered he was much better at fixing the computers on film sets than the tasks assigned to a production assistant, the light bulb went off, and a career path was born.
Fast forward several years.
After cutting his teeth for nearly a decade in the information technology department of the then-burgeoning Indianapolis Star, Stephen started Bionic Cat in 2007. Initially focused on residential services, Bionic Cat has grown to count an eclectic blend of Indy's best Apple-centric companies among its clients.
In analog moments, you'll likely find Stephen running the trails at Eagle Creek Park, listening to obscure British bands, dining on raw fish, planning a trip with his girlfriend, looking at watches he can't afford on Pinterest or dreaming of a way to adopt all the world's homeless cats.
Stephen's current desert island list (Okay, in a real-life desert island scenario, he'd be a bit more practical, but let's work with him.):
Album: Road To Rouen by Supergrass
Shoe: Hoke One One Speedgoat 3
Food: Hamachi nigiri
Watch: Meistersinger Metris (bet you thought he'd list an Apple Watch)
Mac Utility: Keyboard Maestro
iPhone App: Runkeeper
Cloud Service: Addigy
Radio Station: WFYI
Drink: Americano
Alcoholic Drink: Garzón Cabernet Franc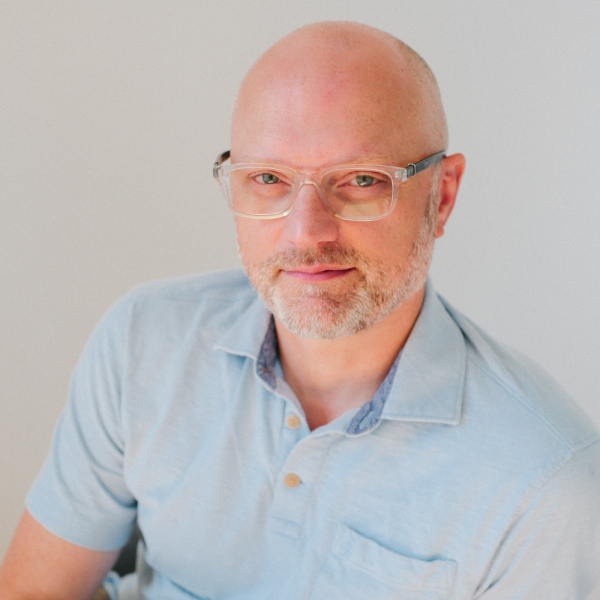 As the de facto computer person at his early jobs because the older staff didn't want anything to do with emerging technology, Randy's career shift to full-time computer geek happened when he joined MSD Washington Township in Indianapolis. There, he assisted the township's schools with the implementation of a system-wide Macintosh deployment.
Then, Randy spent nearly a decade working at the Indianapolis Star and its parent-company, Gannett Media. Since joining Stephen at Bionic Cat a few years after its inception, he's utilized his past experiences to increase productivity and minimize downtime of Bionic Cat's Macintosh-centric clientele.
In his spare time, Randy enjoys running, playing golf, and spending time with his wife, Dhiann, and son, Collin. They also enjoy the company of their two rescue dogs, Goose and Daisy, along with their cats, Gloria and Hugo.
Although he'd much prefer the fresh water of Lake Michigan to a salt water desert island, his desert list includes:
Album: Rolling Stones – Exile on Main St.
Golf club: Vokey SM7 60° wedge  (Might as well practice because, well , there's a lot of sand around.)
Book: A Game of Thrones
Whiskey: Journeyman Distillery Silver Cross
Food: Sockeye Salmon, prepared just about any way
"We've worked with Bionic Cat for years on everything from routine computer upgrades to complex server issues. Not only are they great at solving our problems quickly, they are fun to work with and have become a valued extension of our agency family. We can't imagine working with anyone else."
"These guys are the best! We made the switch years ago and have never looked back. They're happy to grow with us, and always tackle anything we throw at them."
"Until I met the Bionic Cat, I have never been much of a cat person. Stephen and his team know Apple products and systems inside and out. I totally rely on their vast knowledge and excellent customer service at work and home. So does my wife, April, who has always been a cat person."
"We've been a client of Bionic Cat since 2011 and have developed a great working relationship with them. They have deep expertise in all things Mac — a tremendous asset for our agency."
"The team at Bionic Cat is great. They are flexible, reliable and have been an absolute pleasure to work with as we've expanded our operations over the last several years."
"When our company grew too big for us to handle its information technology and software, Bionic Cat took over. We can send him the hardest or the simplest problems and he handles them all quickly and kindly. I can't imagine not having him as a partner!"
"We've been working with Bionic Cat for at least a decade and I think it's safe to say we'd be lost without them. Stephen and his team are knowledgeable, easy to work with, and always quick to respond. My job is so much easier because I can call on them for backup and support—thank you, thank you for the many years of help!"